VI International Conference
Digital Media for the Future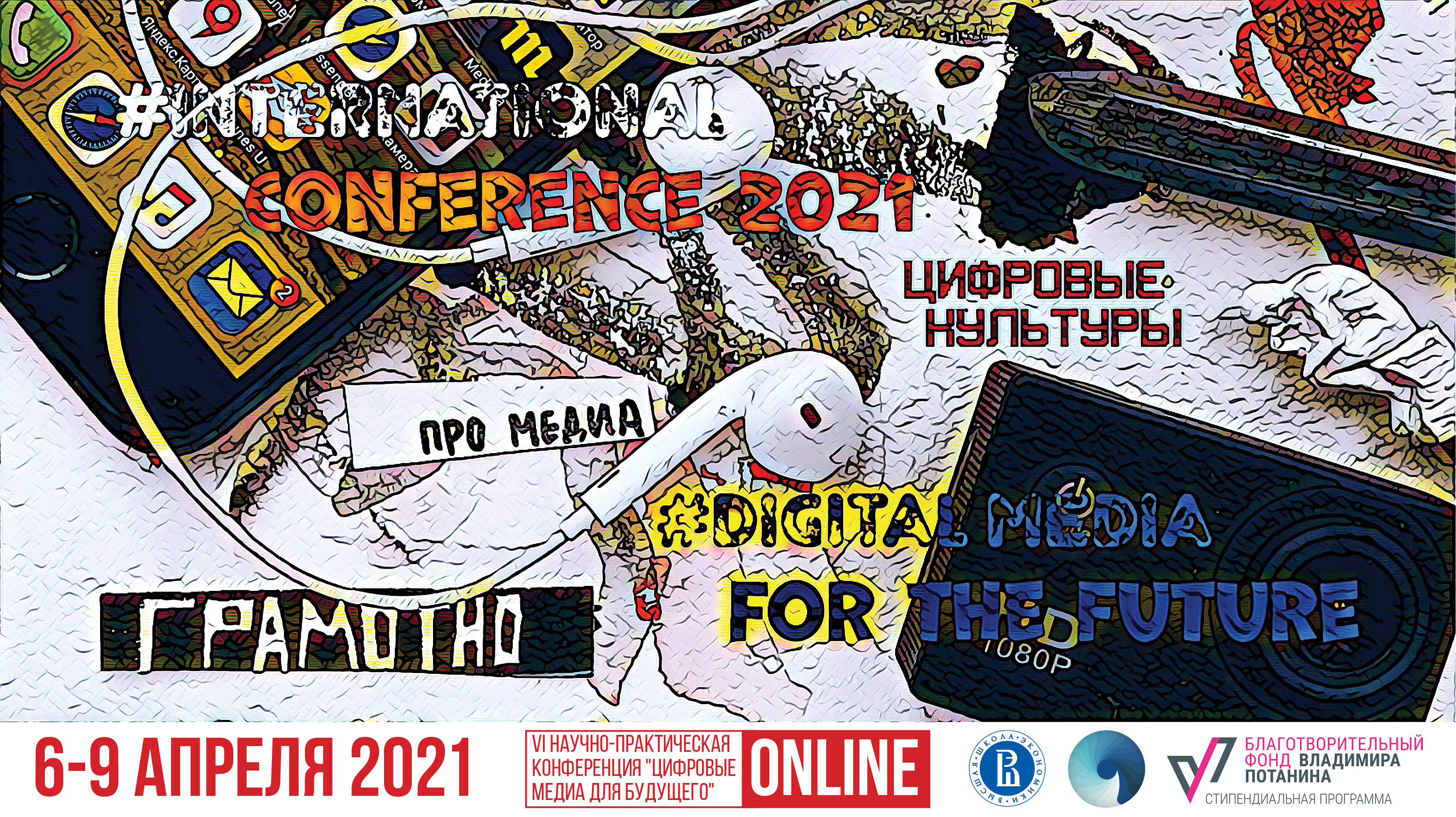 HSE Centre for Digital Cultures and Media Literacy is holding the VI International Conference 'Digital Media for the Future', which will be held in Moscow from 6 to 9 April 2021, in an online format.
Digital media, digital cultures, media ecology and media literacy are an important part of modern life where media is perceived as a public good. Challenges of infodemic and credibility gap between authority, media organizations and society in COVID-19 pandemic situation; deformation of media environment (propaganda, fake information, digital aggression etc.); "digital gap" of generations and territories; "total online"; "information uncertainty" and "information overload"; sad state of noncritical thinking in regards to media all over the world; manipulation and fundamental changes of media consumption of people in many countries that distinguish facts from fiction less and less and do not see necessity in verification of sources; huge problems of ethics and media rights in digital environment; digital security that often crosses the line of freedom regulation; digital resistance and experiments in digital art – these are the challenges in the world that lives in the stress environment of global "reconstruction".
The topics of information crisis, ecosystem of digital platforms, changing practices of social communication, media literacy, media ecology and critical autonomy of citizens towards media, discussions about challenges of digitalization and new social-technological way of life, influence of innovative technologies, distant and immersive practices on education, culture, politics, social environment are the main goals of International conference that will take place in Moscow for the sixth time. The Conference will gather researchers and professors that work in different media areas, communication and education, and media professionals that work with content in digital industries to discuss current issues of freedom and responsibility in digital environment, media ecology, ethics and aesthetics of new cultural practices. 
Media researchers from Finland, Sweden, Canada, Spain, Italy, the Great Britain, Poland, USA, Hong Kong, Germany, Armenia, Belorussia, Georgia, Kazakhstan, Moldova, specialists of international and national Associations of media ecology and media literacy took part in the conference in its different years. 
Main topics of the conference:
✦ "Empathic media": transmedia shift and the problem of credibility
✦ Infodemic as a global information crisis
✦ Fake as a communication unit: dictatorship of algorithms and risks of users
✦ Media ecology and media literacy of the era of "watchdog capitalism", "information totalitarianism" and political populism
✦ Social media and journalism: problems of self-identification
✦ Humanitarian technologies: social effects and digital ethics
✦ Digital transformation of creative industries: design of narratives
The project is being implemented within the framework of the Vladimir Potanin Scholarship Program of the Vladimir Potanin Charitable Foundation