Program of the VI International Conference "Digital Media for the Future"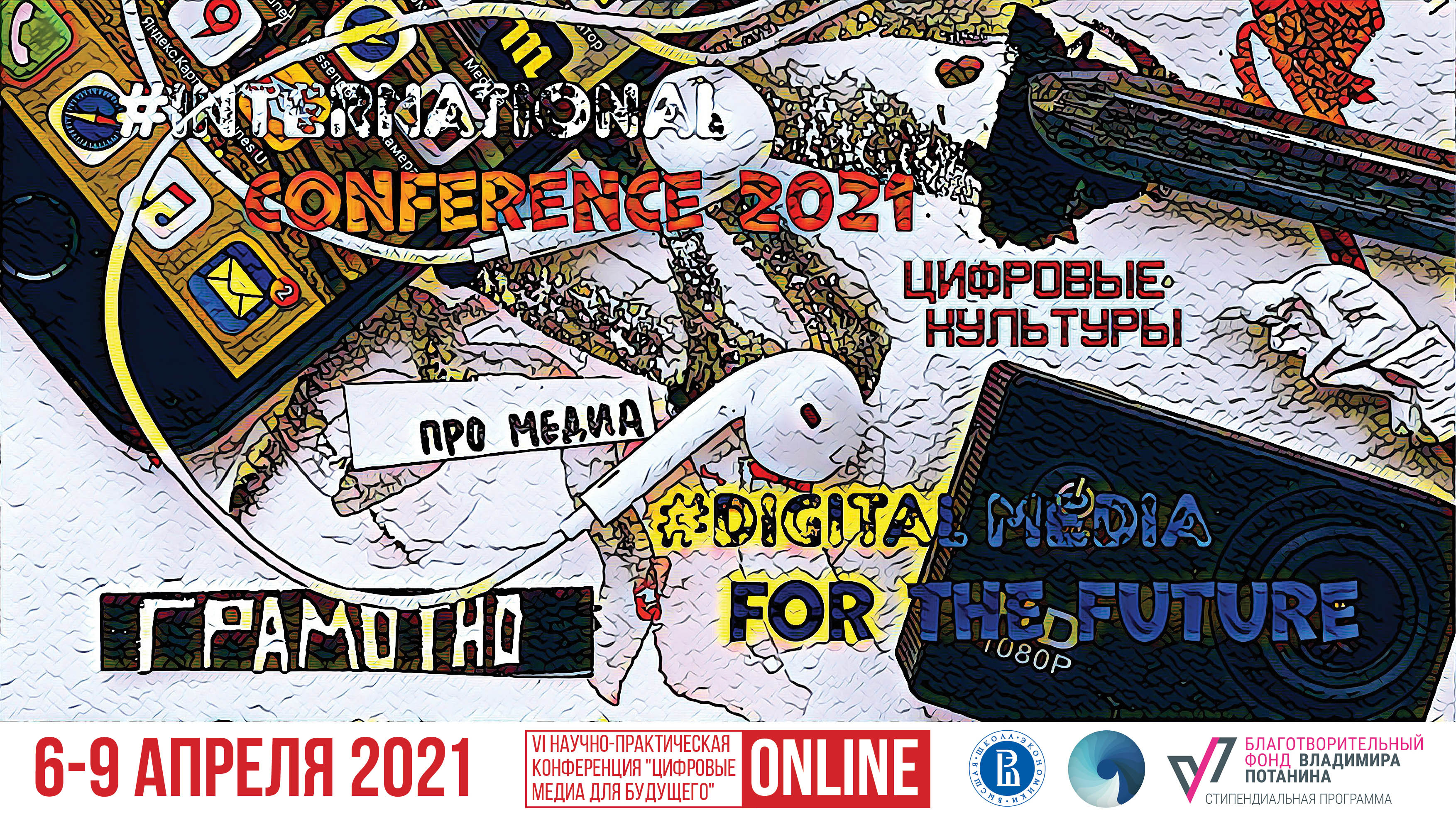 Four days of panel discussions, poster sessions and special events. Watch on CDCML channels and ask questions. Please note that we have asynchronous conveniences too!
If you cannot watch online, you can ask your questions to the participants of the plenary and poster sessions in advance, in an asynchronous format. Each block in the program is provided with an annotation – you can send your questions to cdcml@hse.ru with the mark #ConferenceCDCML, leave a comment during the broadcast on Facebook and YouTube, and hear the answers during the broadcast and in the recording – with delayed viewing.

DAY 1, April, 6th
9.30. Gathering

9.45. Opening. Welcome

10.00–11.30. "The media ecosystem in the era of "communicative capitalism" and "critical autonomy" of an individual. Plenary session

Mediatization of everyday communication, "communicative", "surveillance" capitalism, "platform capitalism", "intentionalism", political spaces of "informational authoritarianism", "political populism" and post-truth are all attempts to describe the political-economic-ideological formation which is the result of the development of digital technologies and media that "captures" users, while entertaining and controlling, globally connecting and individually disconnecting, creating online offline spaces, a hybrid bio-algorithmic environment, a new understanding of work and lifestyle.

How do new communication practices change economics, politics, and our personal perceptions? What does the digital court of platforms and the dictatorship of algorithms mean for states, politics and civil society? Will our attention become the main "currency" of the digital world? Why does the ability of networks to generate many different and equally legitimate opinions, to produce and sell them as an "information product," weakens the symbolic order of traditional media and political institutions, and why does it become increasingly difficult to maintain the right to reliable information? Is it possible to say that the ongoing expansion of technologies into the sphere of the psychic strengthens "involving" practices and, together with "empathic media", changes the purpose of communication, making it more and more emotional and less meaningful?

What is happening with technologies for generating text and multimedia content? How are they trying to detect fakes today and is there a "light at the end of the tunnel"? How does the struggle for the "purity of the digital media ranks" help to understand industry trends and the capabilities of specific market participants?

Participants

Vasily Klucharev, tenured professor at Faculty of Social Science, director of Institute for Cognitive Neuroscience (Moscow):
"Meaningful Communication: About Our Brains, Digital Technologies, and Fakes (Cognitive Neuroscience Experience)"
Sergey Guriev, professor at Instituts d'études politiques in Paris Sciences Po (Paris):
"Social networks, populism and autocracy"
Andrei Rikhter, professor of Comenius University (Bratislava):
"State monopoly on truth, as a follow-up to the anti-COVID-19 policy"

Participants

Andrei Rikhter, professor of Comenius University (Bratislava):
"State monopoly on truth, as a follow-up to the anti-COVID-19 policy"
A. Neznanov, Senior Researcher, International Laboratory for Intelligent Systems and Structural Analysis, FKN NRU HSE (Moscow):
"Fighting deepfakes – a new reality for consumers and creators of media content?"

Moderator

Anna Kachkaeva, director of HSE Centre for Digital Cultures and Media Literacy, professor at HSE CMD Media Department

13.00–15.00. "Transmedia turn in education". Round table discussion

Under the influence of the transmedial turn in culture, pedagogical practices are being transformed, and the modern education of the reader now involves not only teaching the skills of traditional linear reading and interpretation of images, but also his involvement in the process of interaction with a wide range of various texts, multilayered with both semantic and artistic and aesthetic points of view. We will discuss theoretical and methodological approaches to the use of modern media technologies, transmedia narratives and skills of modern network communications in the study of works that are included in the school literary canon. Let's talk about digital creativity when working with text, which allows you to implement the principles of humanistic pedagogy.

Participants

Dr. Peeter Torop, Professor of Semiotics of Culture, University of Tartu (Estonia)
Dr. Carmen Herrero, Principal Lecturer in Hispanic Studies, Languages, Information and Communications Manchester Metropolitan University; Director of the Research group Film, Languages And Media in Education (FLAME), Transmedia in Education
Alexander Asmolov, head of the Department of Psychology of Personality of Faculty of Psychology of Moscow State University, research professor at Higher School of Economics

Participants

Аleksandra Milyakina, PhD, Department of Semiotics, University of Tartu (Estonia):
From divergence to convergence: teaching literature with «Education on Screen»
Samantha Stanley, University of Hong Kong | Journalism and Media Studies Centre Ph.D. Candidate, University of Rhode Island | Center for News Literacy/Global Network for News Literacy

Moderator

Alexander Arkhangelsky, journalist, writer, tenured professor at the Higher School of Economics, author of a line of textbooks on literature for secondary and high schools, head of the project "The subject area "literature" and digitalization of school education: from analog thinking to transmedia creativity" (Russian Foundation of Humanities' grant)

16.00–16.30. Special guest (with translation)

"Session from Toronto". "Escaping the Maelstrom: Explorations in Media Education"

Guest

Paolo Granata, Media Ethics Lab, director; 3D Gutenberg Lab, director; Media Ecology Association, President; Affiliated Faculty of the University of Toronto School of Cities, Canadian Commission for UNESCO, Executive Committee Culture, Communication and Information Sectoral commission

16.30–18.30. Poster session. Evening showcase (with translation).

"Participation environment". Educational practices and digital media projects

Participants

Dr. Peeter Torop, University of Tartu (Estonia)
Аleksandra Milyakina, University of Tartu (Estonia)
Carmen Herrero, Manchester Metropolitan University (UK):
Open Educational Resources for Students by Students (Engaging students in developing media/Transmedia projects as OERs)
Jonathan Sanders, State University of New York at Stony Brook (USA):
Visualizing for the Ear

Participants

Fekla Tolstaya, Tolstoy Museum, channel "Culture" (Moscow)
Nelly Boryshneva, Higher School of Economics (Nizhny Novgorod)
Darya Ustyuzhanina, Siberian Federal Uninversity (Krasnoyarsk)
Caroline Roth-Ebner, University of Klagenfurt (Austria):
Transmedial Transformation of Children's Play

Moderator

Аnna Novikova, Head of the educational program "Transmedia production in digital industries", professor at HSE CMD Media Department
DAY 2, April 7th
11.00–12.30. Section 1. From Toddler to the "Silver" Age: Media Education and Media Competence in Human Life

Participants

Olga Stepanova, Municipal autonomous preschool educational institution Kindergarten #18 "Prometheus" (Yakutsk):
Media education in modern kindergarten
Veronika Koryakina, Municipal autonomous preschool educational institution Kindergarten #18 "Prometheus" (Yakutsk):
English through animation at Preschool Educational
Alexander Fedorov, Rostov State University of Economics (Rostov-on-Don):
Criteria and methods for assessing the effectiveness of activities that contribute to the development of students' media competence in the process of analyzing media manipulative influences

Participants

Tatiana Kaminskaya, Financial University under the Government of the Russian Federation (Moscow):
Professional identity of a student-journalist: a teacher's point of view
Tatyana Meikshane, Belarusian State University (Minsk):
Specifics of digital etiquette in the context of distance education in a pandemic situation
Anna Sumskaya, Ural Federal University (Ekaterinburg):
Echo media generation in the Russian metropolis and provinces
Nataly Sakharova, Financial University under the Government of the Russian Federation (Moscow):
Information and communication technologies as a factor in the development of digital competencies of elderly workers in the context of a new abnormality

Moderator

Tatiana Kaminskaya, Financial University under the Government of the Russian Federation (Moscow)

13.00–14.30. "Mediaecology: between cyberoptimism and cyberpessimism". Plenary session

The pandemic, on the one hand, has legitimized the hybridity of the online-offline environment, on the other hand, it has become an illustration of the contradictions associated with digital technologies and their role in our everyday life. Pervasive total online and a variety of innovations to fight the crisis (from new forms of data analysis to network mobilization), quarantine and the development of surveillance technologies, the development of "smart cities" and "digital creativity of citizens" have entered our life. Phenomena such as infodemia, the increased spread of disinformation and a simultaneous surge of interest in media literacy have become a reality.

What is media ecology today? How not to fall into pessimism when assessing the impact of the role of information technology on our lives? Is there a "social dilemma" and is it worth demonizing social networks, that turned out to be not only a new free public platform, but also a space of propaganda, social polarization and emotional "toxicity"? What could be the ways to bring rationality back into the digital environment of a post-pandemic world? How should we rethink approaches to media literacy, taking into account the role of artificial intelligence, the "dictatorship of algorithms", big data and the changed media ecosystem?

Participants

Carlos Scolari, Professor University Роmрео Fabra (Barcelona):
Apocalyptic and integrated in the 21st century: a media eco-evolutionary approach
Alice Lее, Ph.D, Professor Department of Journalism School of Communication, Hong Kong Baptist University (Hong Kong):
Fighting the Infodemic and Moving into a Smart City: Media Literacy Education in Hong Kong Amid the Pandemic
Irina Zhilavskaya, head of Department of Media Education, Moscow State Pedagogical University (Moscow):
Media literacy in the era of "information authoritarianism"

Moderator

Anna Kachkaeva, director of HSE Centre for Digital Cultures and Media Literacy, professor at HSE CMD Media Department

14.30–16.00. Section 2. Modern digital spaces: formats, projects, participation

Participants

Roman Bakanov, Kazan Federal University (Kazan):
The history of journalism education in digital: specifics of the implementation of multimedia projects by students of Kazan University
Iliana Ismakaeva, Higher School of Economics (Perm):
Digital media practices of historians: from idea to implementation
Anastasia Pahorukova, Silamedia (Vladimir):
Synchronous and asynchronous forms of interaction with the online audience

Participants

Olga Berdeskaya, Sdelano.Media:
The main difficulties in creating educational multimedia projects and ways to resolve them
Nikita Matkin, Higher School of Economics (Perm):
Digital projects in the representation of intangible cultural heritage

Moderator

Iliana Ismakaeva, Higher School of Economics (Perm)

16.00–17.30. Section 3. New literacy in the digital age: a transmedia twist

Participants

Svetlana Shomova, Higher School of Economics (Moscow):
Sore topics and pressing issues: perception and interpretation of Internet memes by Russian students
Maria Anikina, Moscow State Stroganov Academy of Design and Applied Arts (Moscow):
Transmedia storytelling and public history: constructing the past in a multi-platform environment (on the example of the Erast Fandorin project, 1998–2020)
Evgeniya Evpak, Higher School of Economics (Moscow):
Digital transformation of creative industries: what will a composer do in the era of the heyday of robotic music and artificial intelligence?

Participants

Aynur Suleymanova, Non-profit limited company "A.Baitursynov Kostanay Regional University (Kostanay):
Principles of documentary filming in the post-truth era
Viktoria Konstantuk, European Humanities University (Vilnius):
The digital transformation of reality TV: a genre renaissance
Oksana Timofeeva, Higher School of Economics (Moscow):
Fake ads on the mobile games market

Moderator

Svetlana Shomova, professor at HSE CMD Media Department
DAY 3, April,8th
11.30–13.00. Section 4. New everyday practices and digital behavior

Participants

Maria Skivko, Samara University (Samara):
From healthy lifestyle to conscious lifestyle: fashion for awareness. From household to digital trends
Darya Ustyuzhanina, Siberian Federal University (Krasnoyarsk):
Online space as an environment for constructing social norms
Viktoria Belenko, Novosibirsk State Univesity (Novosibirsk):
City and District Publics in Social Networks: Problems of Conceptualization

Participants

Elena Vlasova, Perm State University (Perm):
The Adaptive Role of Modern Journalism and Techniques for Its Implementation: Based on the Material of Urban-Oriented Online Media
Ekaterina Grishaeva, Ural Federal University (Ekaterinburg):
Digital Media as a Part of Orthodox Users Everyday Life: Legitimation and Resistance

Moderator

Anna Kachkaeva, director of HSE Centre for Digital Cultures and Media Literacy, professor at HSE CMD Media Department

13.00–14.30. Fake as a communicative unit: what metrics algorithms need to improve the quality of information for users. Plenary session

In 2020, Yandex launched a number of programs to improve the quality of information for users in its services.

Zen has launched a fact-checking program on materials posted on the platform. The media partners of the program are TASS, Interfax, The Bell, Vedomosti, the resources "Checked.Media", Fakecheck, and the academic partner is the Center for Digital Cultures and Media Literacy of the Higher School of Economics.

A program for expert verification of texts has been introduced on the social network for Yandex.Q experts, in which professionals assess the reliability of all published answers. A week ago, Kew announced the creation of a rating for the expertise of all bloggers, which will allow relying on the opinion of professional communities about the competencies of a particular author.

How do platforms rank posts so readers can see more quality content? What metrics, besides likes and views, should the market focus on? How does a fake differ from incorrectly presented information? How and by what signs can fakes be recognized by fact checkers? Does their labeling accelerate or neutralize the spread of fakes? What does it mean for media organizations to "adjust" to algorithms? Can a digital platform foster critical thinking for its users and content producers? Is it possible to overcome the new phenomenon of the digital world - "the death of expertise" - and what can the expert communities do for this? Discussing with media researchers and media professionals.

Participants

Anna Kachkaeva, director of HSE Centre for Digital Cultures and Media Literacy, professor at HSE CMD Media Department, Irina Dushakova, Senior Lecturer, Higher School of Economics (Moscow):
Fakes as a concept and narrative. How to recognize and classify fakes? Joint project of HSE Central for Digital Culture and Media Literacy and Yandex.Zen
Olga Dovbysh, University of Helsinki (Finland):
How to reach Nirvana: Yandex, news personalisation and the future of Russian journalistic media

Participants

Olga Sevastyanova, Yandex.Dzen manager, head of fact-checking program
Аntonina Samsonova, Head of the Social Network for Experts Yandex.Q
Ilya Ber, Head of Provereno.Media

Moderator

Anna Kachkaeva, director of HSE Centre for Digital Cultures and Media Literacy, professor at HSE CMD Media Department

14.30–16.00. Section 5. Fake in the ecosystem of news and distortion of the media space

Participants

Alena Denisova, Higher School of Economics (Moscow):
New approaches to the regulation of Internet corporations: digital transparency and threat prevention
Darya Radchenko, Centre for Theoretical Folklore Studies, RANEPA (Moscow):
Pandemic online: rumors and fakes about COVID-19 in social media
Elizaveta Kuznetsova, Harvard University (Boston, USA):
Blame it on the algorithm? Russian media and curation of news on Facebook

Participants

Pujari Harshad Satchidanand, independent researcher:
Safeguard or Censorship? Analyzing the impact of India's 'Intermediary Guidelines' on Digital News Media
Alla Shesterina, Voronezh State University (Voronezh):
Audiovisual fakes as a communicative unit

Moderator

Alena Denisova, Senior Lecturer CMD Department of Media Higher School of Economics (Moscow)

16.00–16.30. Special guest

Post-Trump Journalism: Is "Quality Journalism" Possible in a Post-Trump World?

Special Guest

Jonathan Sanders
Professor in the Journalism department at Stony Brook University (USA)
DAY 4, April 9th
11.00–12.00. Special Event. Poster session. "When the Crown Is Heavy: Digital Media during Pandemic".

"In 2020, the whole world stumbled. The pandemic seemed to have put the usual life "on pause". Empty cities, stress of uncertainty, self-isolation, quarantines, lockdowns, a medical storm, a total shift from physical to digital, confused politicians, fragility of vital infrastructures and relationships, new loneliness with global inclusion in the Network. Infection – real and digital – has influenced all of us, viruses – covid and media communication – have become triggers of social, economic, and political upheavals, the consequences of which we do not yet fully understand. The expression "the year of the great zeroing" in Russia has become almost a meme; you can hear it on podcasts and live broadcasts, in publicist discussions, in author's columns – and it turns out that it has not only a political meaning for the country, but also existential and eschatological ... We start a lot from scratch. The new frame of reference has been launched".

This is an extract from the bool "When the Crown is Heavy: Digital Media during Pandemic", composed of a variety of texts – hybrid, like our time itself. A collection of colorful chapters will be presented by authors who work and teach at the HSE Media Department. If you are interested in the book, you can read in advance: "When the Crown is Heavy: Digital Media during Pandemic"

Participants

Ilya Kiria, professor, head of HSE CMD Media Department
Anna Kachkaeva, director of HSE Centre for Digital Cultures and Media Literacy, professor at HSE CMD Media Department
Svetlana Shomova, professor at HSE CMD Media Department

Participants

Ekaterina Lapina-Kartasyuk, assistant professor at HSE CMD Media Department
Olga Dovbysh, University of Helsinki (Finland)

12.00–13.30. Section 6. Social media and modern civic movements: the production of shared emotions and meanings

Participants

Vasilisa Beynenson, Lobachevsky Univesrity (Nizhny Novgorod):
Russian mass media on TikTok: goals and strategies
Aygul Omurkanova, Kyrgyz Russian Slavic University (Bishkek):
Media criticism in Central Asia: transit of power as a starting point

Participants

Viktoria Sukhareva, RANEPA (Moscow):
Social networks as a tool of political manipulation: algorithms, forms, meanings, audience
Ekaterina Voinova, Anastasia Folts, Moscow State University (Moscow):
Tiktok as a resource for shaping the political agenda

Moderator

Anna Kachkaeva, director of HSE Centre for Digital Cultures and Media Literacy, professor at HSE CMD Media Department

13.30–14.00. Summary

Closing of the Conference